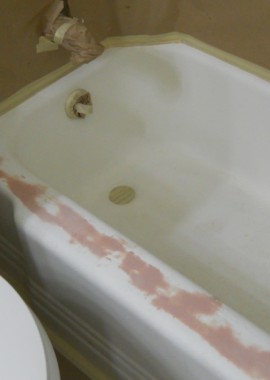 Before Reglazing is Done
Remove all loose items from the room like rugs, toiletries, wall decorations, curtains, etc.

Partial or complete clogged sewage pipes must be fixed first. If the water backs up and comes out of the drain it can ruin the fresh reglazing coat off during or after the job is done.

Please make sure there are no leaks on the surface to be refinished. If there are, please get them repaired before the scheduled refinishing service. Water leaks may ruin the freshly reglazed surface.

In order to reduce the chance of anything landing in the fresh coat of glaze, clean the surrounding area and ceilings one or two days before our arrival, not on the day of the job, nor during the first 48-hours of the new reglazing curing time. Also, avoid doing extensive work in adjacent areas that produce dust particles which later may fall into the tub while the new finish is drying.

Please consider that foreign objects or dust that lands on the refinished surface after the job has been completed are not covered within our warranty.